When I was a newbie photographer I took note of all those suppliers who I had a great time working with… those whom I felt our work styles compliment and enabled me to do a better job in my photography. One such supplier is Ade Singson and Jack Sy(who also happened to be a college friend of mine) of "About Us events". So with the dozens of couples we've referred to each other, we became good friends.
After years of working together, Jack & Ade shared with me their prayer request. They both wanted to bear child for they've been married for several years now. After years of praying God seemed to be still quiet on this prayer request until one day I learned through a couple that I referred that Ade & Jack weren't accepting weddings for now. I called up Jack and learned that she was finally pregnant. Praise God!
Years passed again, things were still quiet on Ade's end. The odds are against her side: She hitting 40 and she only has one ovary. Years ago, she had ectopic pregnancy (embryo attaches outside the uterus) and one of her ovaries had to be removed. Unfortunately, that was the only ovary that faithfully ovulated. The remaining one hardly ever ovulates (like once a year). With this, Ade & Gilbert has already surrendered their desire to become parents to God and even became open to the idea of just adopting or just spending money traveling aboard. To their mind, rather than spending on work-up, they could just use this money on enjoying life with each other.
However, God works in mysterious way specially to those who He knows whose hearts are his. After 9 years of waiting, I receive a word again from a couple who I referred that this dynamic duo has again refused to do their wedding. So I thought "What is it again this time?" and learned that Ade is finally pregnant. I think I almost cried when I found that out and shouted out a "THANK YOU JESUS!" as I crossed out the words "Baby for Ade" in my prayer list.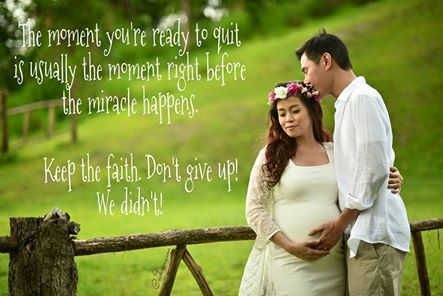 Last week, I had the privilege of taking pics of this miracle. Ade looked as beautiful as ever and though I'm not really a maternity photographer, I tried the best I could. Though I don't know if these couple would ever want to do weddings again (priorities in life change after you become parents), I thank the Lord for make giving me miracle stories like these to blog about.
Coincidentally, I have another friend (who was like a sister to me) whose wedding was the first wedding I've ever shot in New York (and the 2nd US wedding I did) who after 10 years of being married finally bore child. I was just soooo happy to find out that finally after years of prayers God has opened her womb.
The next time you think God is late or is not answering your prayers, think to yourself first, is this really God's will for me? Sometimes, God is simply checking your heart. Will you trust him if He doesn't say yes to you? Right now with all my heart I believe, more than ever, that God is still in the business of doing miracles. I may not know that the future holds, but I do know who holds the future.
Credits: Thank you Cherry for the great make-up and Madz for accompanying me.