Ask, and it will be given to you; seek, and you will find; knock, and it will be opened to you. For everyone who asks receives, and he who seeks finds, and to him who knocks it will be opened. – Matthew 7:7-8
This was the verse that I was sharing with the volunteers of Revelation last Wednesday.  I reminded them that God wants to give the best to us and nothing less than that.  That is why God answers with 3 responses:  YES, NO and WAIT.  Some people stumble with hearing the NO response to their prayer.  Some will even wrestle, "I am following you Lord" and yet simple request your answer is NO.  Yes my friends, God gives a  NO answer. He gives a" No" not because He is a cosmic kill joy or He wants you to be unhappy or suffer.  He says NO because He has an even better plan for you.  He doesn't want you to settle for less.  He may also say WAIT. Because if it came any sooner, some of us don't appreciate the gift. Some of us upon receiving the gift at the wrong time, forget the Giver.  Some of us upon receiving what we prayed for are not ready to receive it and we stumble along the way.   So in this situation God wants us to trust His heart.  This is all about staying faithful even when we cant see the outcome because if we put our faith in Jesus, we know he has the best in mind for us.
During the kids service, I decided to ask how many of our Rev Kids were going back to school. I was so happy to know almost all of them were going back to school! Then I ask a casual question: Are you all set with your school supplies?  Then many looked down and said, we dont even have our notebooks yet.  Right there, the Lord reminded me of the verse I shared that afternoon to the team.  In my heart he impressed: Go ahead Monique: Ask. Seek. Knock.
I posted an Instagram photo of our kids late Wednesday Night. I knocked online.  I was seeking leads for direct suppliers and I ask if – anyone was willing to give some blessings to these kids to send it our way.  I knew that deep down in my heart to just trust in Jesus to answer this request.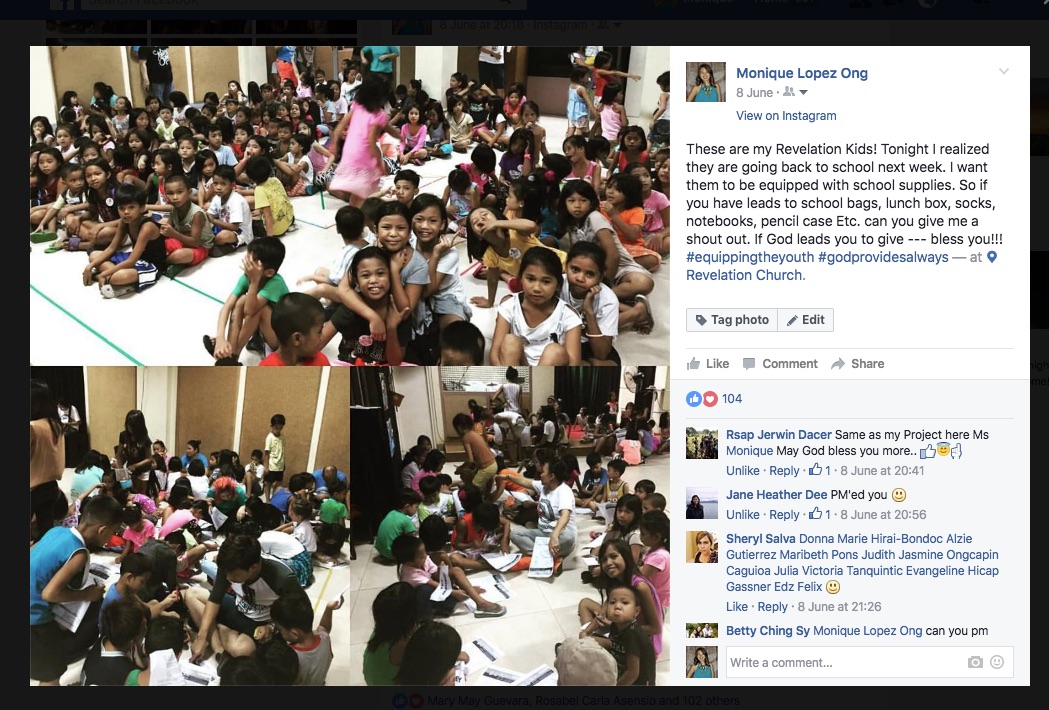 I am a homeschooling mom so I am a bit out of touch with the regular public school needs. I sat with a group of moms in our office and I was completely surprised that they needed more than just school bags and notebooks to start the year.  They needed a complete set of grooming kit which includes towelette, tissue, toothbrush, toothpaste, comb, soap and alcohol. They also need a foot rug which they use inside the classroom. We had to consider that they walk to school so raincoats and umbrella are essentials to keep them dry during the rainy season.  We also wanted to give them lunch boxes that they could bring to school. I realized for the urban poor, this was such a heavy requirement .  You will need at least 3000 pesos for each child to get them ready.
It honestly sounded like a tough assignment. First, I am very aware that I was late to make a shout out. I needed everything by the next Monday. With only 4 days to prepare – it is so easy to shelve off this idea and do it next school year. But my spirit did not rest until I tried. If God is giving me this burden, He will lead me and see me through. This was my mantra the whole time:
Our God owns everything.  Nothing is too Big for Him. Our God is a generous giver. He is a good Father. He is our great provider. He is our Jehovah Jireh. 
You will know if God is behind the scene because his works are supernatural.  By Friday people were sending money for supplies. We inquired from a friend whose business was making bags. That same Friday, he sent us 100 pcs of backpacks. We kept asking how much was our bill. But he refused for us to pay. He joyfully gave it as donation.  Our dive buddies rounded up their friends and sent school supplies and money.  A good friend sent rulers. Our dentist sent 100 toothbrushes and toothpastes. With the money we received, we enthusiastically went to Divisoria to buy the rest of the school needs.
When you ask God with the right heart, get ready to be amazed! His word comes to life.  You can depend on it.
I also want to thank the people that were touched by Jesus to give.  I asked and they responded quickly and joyfully! I want you to know how touched and encouraged I was that you shared what you had to our kids. God gave you the opportunity to serve Him and build your rewards in heaven. To the last peso – the budget we aimed for was exactly what we received to  supply the need.  Thank you for being part of this miracle story.
Are you praying for something that will bring Glory to God?  He says to Ask, Seek and Knock.
Now its your turn to share. We would love to hear from you.