No matter how prepared you try to be about death, it still takes you by surprise. When I heard the news of my father's passing, everything was just a blur. I flashed back the week before when he had his dialysis session. Gino, my brother and his friends came to pray for dad's health. It was a great chat and so much laughter in the room that we were thankful the nurses were accommodating. I never had an inclination that it would be the last time I would see him.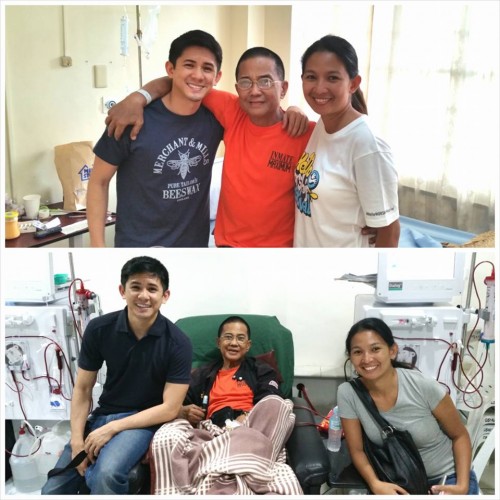 God was however ahead of me by cushioning me from the shock. That weekend, I was speaking in a retreat and I was sharing to the ladies how to guard their heart. Then it dawned on me Monday that the message I was preaching was not just for the ladies but ultimately was for me. It was God's way to prepare me to hear the bad news.
Set your mind on the things above, not on the things that are on earth – Colossians 3:2
Informing and gathering my siblings brought all kinds of emotions. We did not know what really happened until we got to the morgue. We discovered that dad expired Sunday noon in his room in the New Bilibid Prison hospital. They said he was still jolly and was even singing in his room that morning. But his heart gave way and he had a heart attack. I was sad and disappointed that the prison system was so slow to inform his immediate family. If not for that concerned call of a visiting wife of one inmate, we would have never known about dad's death. When we got there he was already embalmed. Everything was way too fast.
Looking back, I remembered the prayer I had when I surrendered my life to Jesus in 2003. I said "Lord restore my family." That prayer was very short sighted because I was praying that God would restore John and I. But our infinite God wanted more than that. He wanted me to experience a true and complete restoration starting with my parents. I never wanted to meet my father in prison. But this was God's design for me to know him. In those visits, my character was molded to what Paul wrote in Colossians 3:12-14
So, as those who have been chosen of God, holy and beloved, put on a heart of compassion, kindness, humility, gentleness and patience; bearing with one another, and forgiving each other, whoever has a complaint against anyone; just as the Lord forgave you, so also should you. Beyond all these things put on love, which is the perfect bond of unity.
Visiting dad was really dying to self every time. Muntinlupa is far and out of my way. The lining up to see him was long and uncomfortable and the conversation we had were limited to the hours allowed. God taught me about generosity by giving my time, talent and treasure to dad. I would grumble at times when his request were hard to manage but it was just what I needed to break the selfishness in me. Though I lost my dad for 18 years I am blessed to have him for the last 12 years of his life. Because God restored our relationship, I wanted others to experience it. So I shuttled people to visit my dad – my brother, my mom and even my half –siblings. Little did I know, this was all part of my dad's spiritual healing and preparations to return to our Maker.
My dad and I had many conversations in his last days about death and preparing to meet our Maker. He was afraid to die. He was restless in his spirit. He told me how he felt like a failure of not achieving anything. But many times, I reminded him that he has achieved the greatest things. It's not in money or career but in trying his best to reach out to us as our dad. I knew God was gracious to my dad for extending his time so that he could reconcile with his children. I will never forget the long hug my dad gave Gino and how he apologized for not being there. That moment was a miracle. Thank you Lord for setting all of us free from hatred, unforgiveness, and bondages of sin.
The toughest assignments for me was getting dad's things in prison. I looked at his "kubol" (bed space) with everything he had for 14 years. The smell of earth and the heat in that place was unbearable. It was also very dark and cramped. I was tearing because I can't believe it has been that long that he suffered. Gathering all his stuff and hearing stories from inmates on how he was a good adviser, a prayerful man and wonderful singer made me thank Jesus for taking care of my dad while he was serving his sentence. The NBP hospital was even more heartbreaking. The wooden makeshift "ward rooms" and the sick people inside will compel you to ask the government for mercy upon the inmates. Seeing this poor state will change you. I was in search for his blue envelope that had all his files and I found it in a paper bag that I took home that day. God knows that I wanted an assurance that my dad really received Jesus in his life. The Lord granted me that. When I opened the paper bag, I did not only see his blue envelope but also books on faith – on Pursuing God. In my curiosity, I checked the pages and I saw some of it folded, some with underline! It was God's way of telling me "Your dad is okay. He is with me."
We all agreed that dad would be best cremated.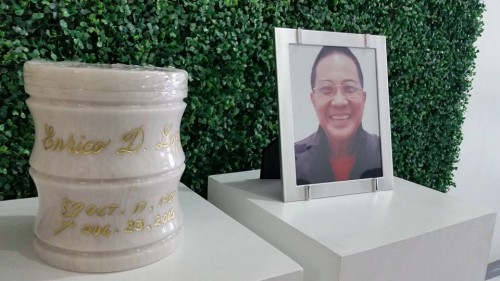 We wanted everyone to remember him as the funny, entertaining and PR man he was. We transformed our photo studio into an instant wake chapel. It was private, non traditional and special. We experienced an outpouring grace, love, support, care and comfort that came from family, friends especially from our church and ministry.
My dad's death was not in vain. His death brought healing for us kids and even unity with our half siblings.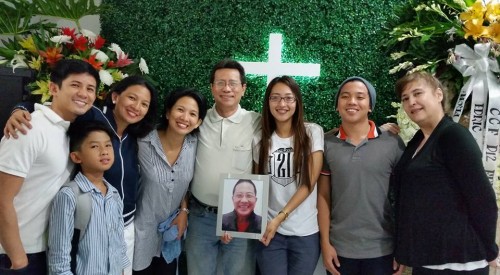 His death reconnected family members we have not seen for years.
His death brought the gospel of grace to many people.
His death brought both REST and RESTORATION. After the burial rites, I brought dad's 2nd family to our church. That service was special because when the pastor asked if anyone wanted to receive Christ that day… they all stood up. To witness this was a great honor and so surreal. This is now dad's legacy.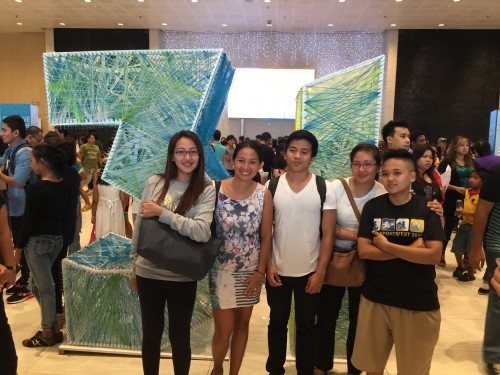 Our God redeems. Our God is Faithful. He truly is a God who restores and turns a mess into a beautiful message.
Let the peace of Christ rule in your hearts, to which indeed you were called in one body; and be thankful. Let the word of Christ richly dwell within you, with all wisdom teaching and admonishing one another with psalms and hymns and spiritual songs, singing with thankfulness in your hearts to God. Whatever you do in word or deed, do all in the name of the Lord Jesus, giving thanks through Him to God the Father. – Colossians 3:15-17