Our homeschool "family coop" checked one of our bucket lists by visiting the Metropolitan Museum in Roxas Boulevard. It was a very good experience because we were able to do 3 things on one Saturday from 10-2pm and the museum exceeded our expectation.
We signed up for a kiddie archeology class. This class is worth P1,100 with a tour guide teaching children about archeology. They went through exploration, observation, studying landscape, people's way of life and digging and discovering treasures.
They walked from a fort into the pre-colonial art of pottery and gold and final ended in the MET Lab where the class did actual digging and later were asked to develop and write a story out of their discovery.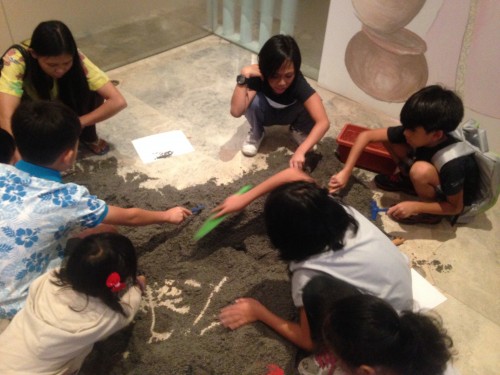 Each one was also asked to share their creative writings to the whole class. The class then is exposed to old civilization music. The snacks were part of the curriculum but I was very happy with the turn out of this tour. It was comprehensive and it was diverse learning.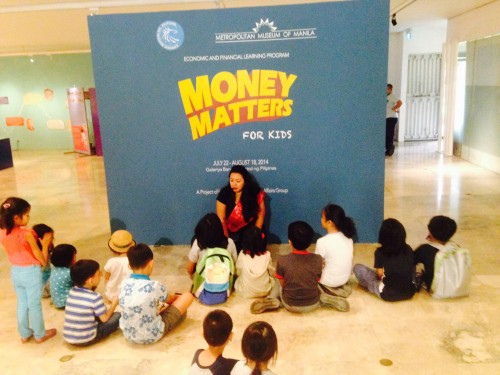 We were also very lucky that the Bangko Sentral's Money Matters for Kids Exhibit was mounted in MET. For the amount of P100 pesos you get to see the exhibit and tour the whole museum.
Here we learned all about Money, the evolution of money from barter all the way to plastics. It explains about savings in the piggy bank to the function of the bank. It explains how money is made and how to identify counterfeits. There is an area for teaching how to know needs from wants, spend on a budget and comparing purchases of goods and services. Lastly it helps you discover lessons in giving through charity, donations and supporting non-profit organizations.
The last tour was the art side which had the Philippine Contemporary art as well as a special feature of Chinese artists Chen Lyusheng and Sun Jaingtao (till August 23). Kids had awesome viewpoints of each art they encountered and they had the chance to appreciate real masterpieces.
I encourage you to check it out. Money Matters for kids is only till August 18, 2014. If you are interested to take part of the kiddie archeology / explore Old Manila– you can book a tour at (+63917) 861-3011 – this is the Manila Collectible Co. You can visit the MET (www.metmuseum.ph) as they are open from Monday – Saturday from 10am to 5:30pm.